Good morning Hydra!
PE
Get crazy as you pop some corn, mash potatoes, squeeze an orange, squish the squash, cry from the onion, and go bananas!
Maths
Start with 10 minutes of Times Tables Rock Stars.
Spellings
This week's spellings are below. Write each word THREE times and then use each one in a sentence.
interest
island
knowledge
learn
length
library

Reading
Read a book from home, listen to a story on Storyline Online or login into Oxford Owl here. Click on 'My class login' and enter the username: studley password: studley
Who else should read this book? Why? Who shouldn't read this book? Why?
English - A vs An
"A" is used before words starting in consonant sounds and "an" is used before words starting with vowel sounds. It doesn't matter if the word is an adjective, a noun, an adverb, or anything else; the rule is exactly the same.
Write these out in your Home Learning Journal and decide whether they should have a or an.
I would like _____ unicorn, please.
I have got a bike and _____ helmet.
It is such _____ shame!
It was _____ exciting moment.
Can I have _____ extra go?
There's _____ huge elephant!
Science - mini-beast hunt
Your garden, local outdoor area or playground are habitats for many different animals. In fact, within each area, there are lots of individual habitats where all sorts of small creatures have adapted to live in those surroundings. Take some paper to sketch and make notes on what you find in each of these habitats. Look carefully and take your time, remember to wash your hands thoroughly once you have finished.

Leaf Litter: Collect a heap of rotting leaves. Carefully sift through the leaves and look for ceratures. Replace the leaf litter when you have finished.

Under logs: Lift logs gently to investigate what lives there. Remember to always leave habitats as you find them by replacing the log.

In rotten wood: Find a rotting log and see how many different types of creatures are living under, or on the inside of it. The rotting wood will eventually be returned to the soil, the nutrients becoming available to the roots of the living trees.
You will probably be able to name some of the more common minibeasts you find but there may be several you cannot put a name to. An identification book will help you but you can also use a key. Here is one specially designed to identify the more common animals found living in leaf litter and under logs.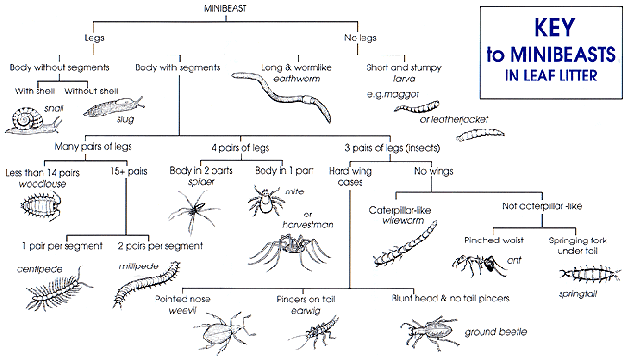 The creatures living in these habitats play a key role in helping to break down plant material and releasing trapped nutrients back to the soil, where they will help the next generation of plants to grow strong.